SMALL WOODEN BARRELS & Oak Barrels - MALTA
Renaissance Arts Company Limited commissions the production of typically small wooden barrels for the Maltese and foreign market in wholesale and retail quantities.
Most of our small oak barrels are customised as per our market requirement and can be natural, charred or toasted on their inside for wine, spirits and liquor making and dispensing.
Exterior finished can vary and options include brass hoops and metal and many of our barrels find their way into farmhouses, houses of character, boutique hotels, bars and restaurants for decoration purposes.
Our oak barrels trading website can be found at ArtisanBarrels.Eu whilst our barrels can be purchased from MaltaWebShop.Com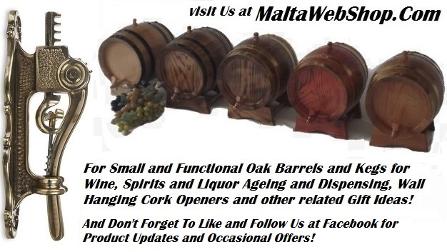 Renaissance Arts Company Limited was incorporated in Malta in 2003 with the aim to meet the demand for artisan and traditionally made quality gifts, fittings and themed items that tend to be hard to find within a local market.
Besides wooden barrels such unique items include chessboards, glass gifts, brass corkscrews, indoor and outdoor brass taps, water fountain spouts and beverage dispensing fittings. Our preferred marketing platform was always through an online presence and as a result we set up a number of niche websites focusing on our varied product portfolio.
Occasionally we do commission modifications to certain products that we market based on our experience or as per customers requirement and we have successfully shipped our products to private and corporate customers in the UK, Europe, United States, Canada, Central America, Australia and New Zealand, the Gulf States and Asia.